17-05-19: THIRD GREAT REVIEW FROM Dagblad van het noorden! (DUTCH)
THIRD GREAT REVIEW! *****
'CALL IT POP, CALL IT JAZZ: ODELION TOUCHES MANY GENRES, IS MELANCHOLIC AND HARMONIC, AND SOUNDS LIKE AN ORGANIC WHOLE, WHICH IS QUITE AN ACHIEVEMENT'
22-04-19: SECOND GREAT REVIEW FROM in DE LIMBURGER! (DUTCH)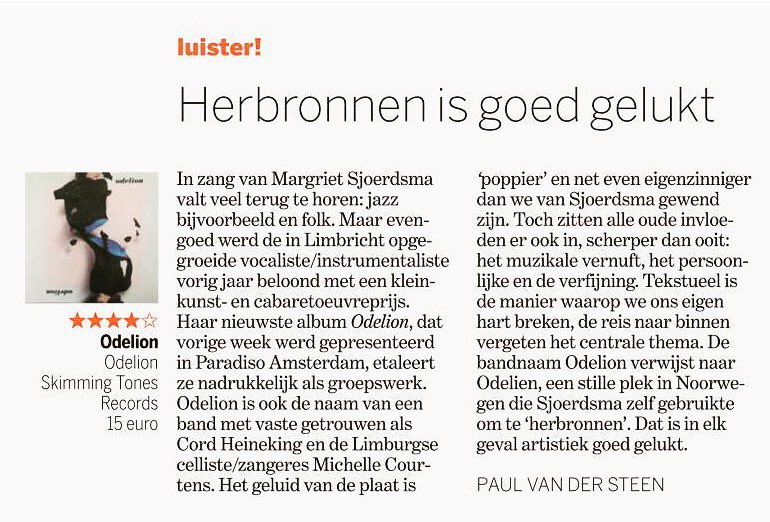 'MORE TO THE POINT THAN EVER": THE MUSICAL INGENUITY, PERSONALITY AND THE REFINEMENT'
17-04-19: FIRST GREAT REVIEW FROM OOR! (DUTCH)
'ODELION IS A NEW DUTCH PEARL THAT NEEDS TO BE DISCOVERED'
15-04-19: INTERVIEW HEAVEN MAGAZINE WITH SANDER WARMERDAM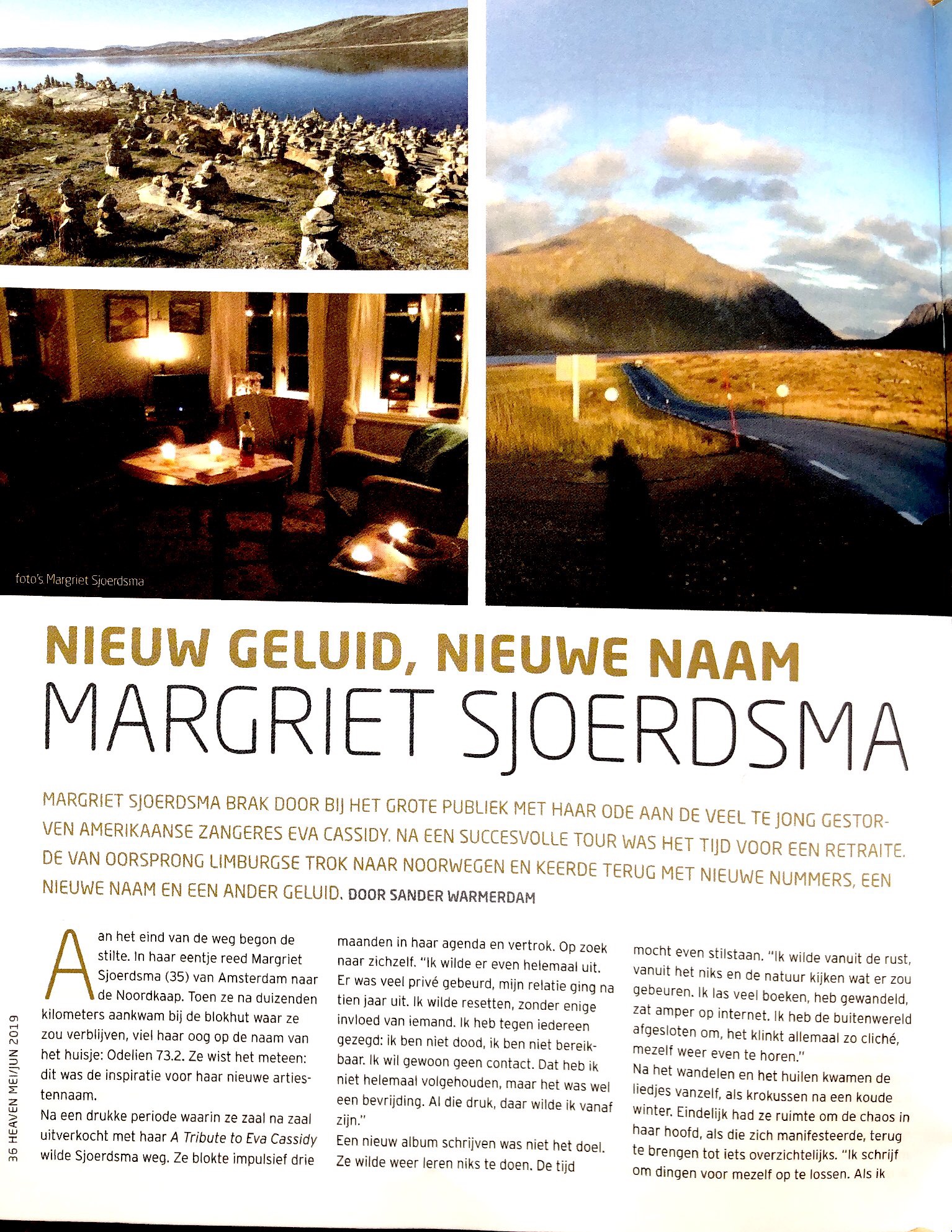 INTERVIEW IN HEAVEN MAGAZINE
About 3 months in Norway,the benefits of solitude and silence!
Blue EYED BOY
This where we started! My first single Blue Eyed Boy was released in december 2018.This is a song about desperately trying to 'rescue' someone when you really need to look inwards and take care of yourself. When you focus so much on the other that you forget to be rooted in yourself, you might be heading for disaster. ODELION hopes to encourage people to take care of themselves whilst in tragedy and dare to let go when needed. As she writes in this song: 'Blue Eyed Boy you heal the world, you try to save them all? While you roll the dice, figure skate on ice, well no one really tries.'
It made it to Spotify's New Alternative Playlist, Apple's Acoustic Chill & Best of the Week! After taking care of a loved one a little too long and intense, ODELION wrote Blue Eyed Boy.
LYING hearts that lie awake at night
My 2nd single Lying Hearts That Lie Awake At Night! I am so happy with this one. This is a song about feeling lonesome with the ones you love the most. Not daring to tell the truth. Trying not to hurt each other. As she writes in this song: 'We dance on eggshells, tiptoe gingerly, creating the illusion we're a tight family. But we're lonesome in each other's company. But the lesson here turns out to be: 'It's not always kind to be gentle and soft'.
Forgiveness
This is one of the finest songs I have written. It is about Forgivess. Forgiving others and myself has brought me tremendous joy these laste years. It is something I deliberately practise during meditation and improved the quality of my life significantly. It will be released in april!
ODELION, an Amsterdam based singer and songmaker, can feel lonesome and lost in the middle of a crowd, but completely at peace on her own. To hear her own voice and heartbeat, she likes to escape citylife from time to time. Especially after periods of struggle and grief.
ODELION's debutalbum came to life in beautiful Norway. Inpired by the deafening silence of the Nordic landscape she wrote 12 intimate songs during a 3 month solo stay. In a tiny wooden house, far, far away from the hectics of daily life. With the comfort of not having to go anywhere but inside. Alone. Norway was the ideal scenery to write about never ending themes like letting go, daring to jump, loneliness, love and bewilderment. A time for reflection, of meditation and most and foremost: forgiveness.

This is an album about heartbreak. And not just in the romantic sense. It's about breaking our own very heart. And doing it over and over again. Until we become so fed up with pointing the finger that we are forced to take another route.
As ODELION writes in her song Forgiveness: 'I can't heal the heart that longs to stay broken but doesn't know it, that's been cut open by too many words unspoken, it was left with expectations and their disappointments.'

The band is a wonderful mix of characters with:
Me! I am at my best singing, but I also play piano and occasionally guitar and ukelele. (and some violin at home)
Michelle Courtens playing cello makes your heart break. It's even better when she sings with it. I love singing with her.
Arie Storm, the virtuoso guitar player that can play practically everything
Cord Heineking, our tough bass monster on acoustic and electric bass
Willem van der Krabben grooving on the drums
THE MAKING OF ODELION's DEBUTALBUM
ODELION
Lying Hearts That Lie Awake At Night - studioversion
My first single Blue Eyed Boy!
CONTACT me? I'd love to hear from you!
press inquiries:
THEatre bookings: